186) ? true : false" x-init="bredCrumbHeight = $refs.breadcrumbs.clientHeight" >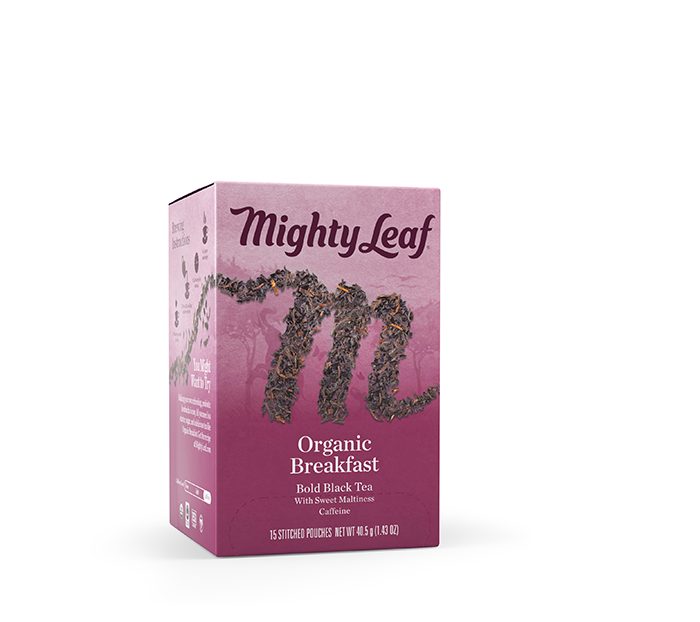 Organic Breakfast Tea Bags
A robust blend of premium organic black tea leaves from Assam and Southern India, punctuated with a hearty finish. Aromatic and brisk, it is great black or with milk and sugar or a touch of honey.
Breakfast teas are strongly associated with Britain, and the only general rules are that the blend be all black teas, contain no flavoring, and have enough natural strength to stand up to milk and sugar in the British style of serving. We use primarily Assam and Nilgiri teas from India in our Organic Breakfast.

Our take on a classic English Breakfast tea is a bold, wide-awake blend that's great straight, or with milk and sugar or honey. The malty taste is evidence of fine Assam tea, while the crisp and bright taste of Nilgiri tea shines through. In addition to these India tea origins, we've added East African Rwanda tea, a high elevation area producing brisk, citrusy, and toasty teas.

A bold, wide-awake blend that's great straight, or with milk. Our take on Classic English Breakfast tea isn't just a perfect start to your day, it's a treat from dawn to dusk.

USDA Organic Certified
For every 12 oz of water, use 1 teaspoon (1 teabag) of tea. For black tea pour water at 212°F and steep 4 minutes.